Vegan Cauliflower Steaks with Chimichurri Sauce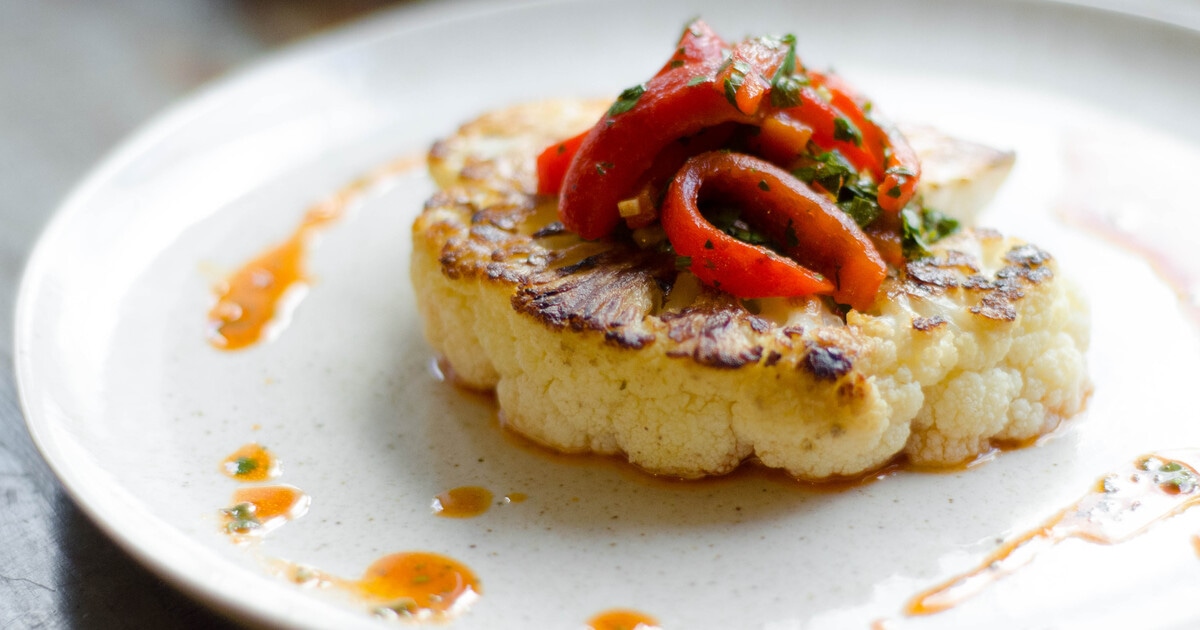 Hailing from Argentina, this mouth-watering chimichurri sauce adds a complex blend of hot, tangy, and herbal flavors to this recipe from online cooking school Rouxbe. Make extra sauce to add to wraps, pour over tofu scrambles, or toss into rice dishes.
What do you need:
For the chimichurri sauce:
1 teaspoon of salt
½ cup lukewarm water
1 bunch of flat-leaf parsley, finely chopped
4 garlic cloves, minced
½ cup roasted red pepper, finely diced
1 tablespoon sweet paprika
1 tablespoon dry oregano
1½ tsp dried red pepper flakes
½ teaspoon black pepper
¼ teaspoon cumin seeds, toasted and ground in a mortar and pestle
¼ cup white vinegar
1 tablespoon of red wine vinegar
½ cup olive oil
1 tablespoon fresh oregano, finely chopped
For the steaks:
2 cups of vegetable broth
½ cup vermouth
2 bay leaves
2 slices of fresh lemon
½ teaspoon of salt
1 head cauliflower, leaves and stem trimmed
2 garlic cloves, minced
1 tablespoon olive oil
1 roasted red pepper, cut into strips, for garnish
What are you doing:
For the chimichurri, in a medium bowl, whisk together the salt and warm water to dissolve; put aside. Once the salt has dissolved, add the rest of the ingredients and whisk gently. Set aside or keep in the refrigerator if preparing in advance.
For the cauliflower, preheat the oven to 350 degrees. With the cauliflower sitting on its stalk, halved down the middle. Cut the outer edge of each half to form a thick steak-like piece of cauliflower. Each piece should be about 1½ inches thick.
In a baking dish, combine the garlic, broth, vermouth, bay leaves, lemon and salt. Place the cauliflower in the marinade and cover tightly with aluminum foil. Carefully transfer to the oven and bake for about 30 to 45 minutes, or until the cauliflower is tender.
Carefully remove the foil from the baking dish. Remove the "steaks" from the liquid and place them on a plate covered with paper towel. Pat the top of the cauliflower dry with paper towel.
In a large skillet over medium heat, heat the oil. Add the cauliflower and cook for about 4 to 6 minutes, or until browned on each side. Handle gently so that the cauliflower does not fall apart. Remove from pan and transfer to serving plates.
In a small bowl, toss the red pepper strips with 4 tablespoons of the prepared chimichurri sauce and place a few strips on each piece of cauliflower. Serve with additional chimichurri if desired.
Happy Birthday VegNews! To celebrate, we're having a mega subscription sale, with amazing vegan prizes.
CHECK IT OUT
Happy Birthday VegNews! To celebrate, we're having a mega subscription sale, with amazing vegan prizes.
CHECK IT OUT