The stakes may be high, but the steaks are worth it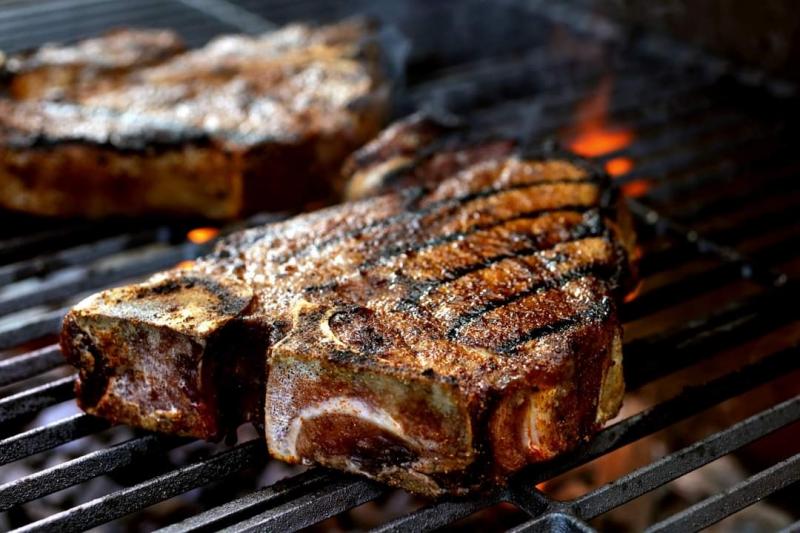 This week's ramblings are inspired by several recent visits to our two Turkish restaurants in downtown Rehoboth. Aroma and Semra never cease to amaze with their intense colors and Mediterranean flavors. One of my favorites is the kebabs. Although traditionally prepared with lightly charred lamb, many Mediterranean restaurants substitute the beef. And (wait: a sharp 90 degree turn here) it made me think of steaks.
To be honest, everything reminds me of steaks, so for me this turn wasn't so sharp.
A word of warning: If you're from Philadelphia, you're probably thinking an elongated sandwich stuffed with thinly cut beef grilled with onions and topped with bright orange cheese in a bright orange spray can. There is certainly nothing wrong with that. But today, I'm referring to real steaks grilled over a fire, or seared, basted, and finished in a scorching oven.
One of the shining stars here at the beach is, of course, 1776 Steakhouse. Tom, Johnny and Tammy oversee this gourmet treat that has been grilling them for nearly 30 years. I love when they bring out the steaks raw so you can choose your cut. It's like ending up with a tray full of old friends. Quality brings longevity, and 1776 has both.
But if you're in downtown Rehoboth, you'd be doing yourself a disservice if you didn't order the gorgeous rib eye steak from Theo's Steaks, Sides & Spirits; skilfully seared and cooked to perfect temperature. ALWAYS get Theo's mashed potatoes with the steak. You will know why by tasting them.
Harvest Tide in Lewes and Bethany (and DC, by the way) does a Wagyu steak that's well worth it. The texture and taste bring a totally different experience. Since we're pretty much everywhere on this page already (remember – we started with the shish kebab), I'm going to take another 90 degree turn and send you to Raas Asian/Indian Fusion restaurant, also in Lewes. Don't miss Chef GG's Rogan Josh lamb shank flavored with cardamom, caramelized onion and saffron pulao.
It's quite a production, coming out of the kitchen in a hammered copper mug surrounded by one of the most delicious sauces I've ever tasted. Another place that doesn't tout steaks in its name is Atlantic Social. My favorite dish is Steak Frites.
The fries are warm and perfectly salted, and the meat is drizzled with a wonderful chimichurri – an Argentinian delicacy created by mixing parsley, oregano, garlic, olive oil, vinegar and red pepper flakes.
So treat yourself to something extravagant! Diamonds may be forever, but steaks are easier to chew. Pass the A-1, please.