Tahini cabbage steaks are an easy and eco-friendly weeknight dinner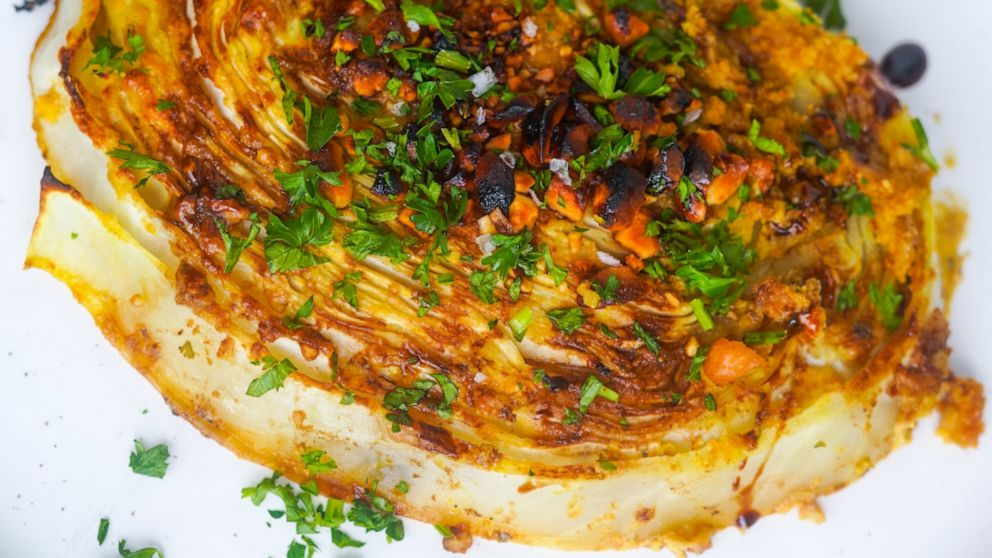 "Plant You" author Carleigh Bodrug shared her easy recipe with "GMA."
If you are searching the internet and wondering what to cook for dinner and looking for a vegetable or plant based option, the answer just got easier.
"Good Morning America" ​​Food simplifies dinner time and helps you find delicious meals you can easily whip up any night of the week.
"Plant You" cookbook author and food blogger Carleigh Bodrug, best known for her rambling cooking tips and eco-friendly recipes, shared a dinner full of earthy flavors, fresh herbs and an excellent texture thanks to a filling of crushed peanuts.
"If you've ever bought a whole cabbage only to use a small amount for a specific meal, this recipe is for you," Bodrug wrote of this recipe.
While she acknowledges that some cooks may complain about labeling this dish "steaks," she said what really matters is that "once you make those tahini cabbage steaks, you Never struggle to use up leftover cabbage again."
tahini cabbage steaks
Ingredients
3/4 cup vegetable broth
1/4 cup tahini and peanut butter blended
4 minced garlic cloves
1 tsp dried parsley
1 teaspoon paprika
1/2 tsp sea salt
3 tablespoons nutritional yeast
3 tablespoons balsamic glaze
3/4 green cabbage
1/4 cup crushed peanuts
1/4 cup fresh parsley
Instructions
Preheat the oven to 400 degrees and line a baking sheet with parchment paper.
Create the marinade by mixing the broth, tahini, garlic, parsley, paprika and sea salt until a sauce forms.
Cut cabbage into 1-inch-thick "steaks". Brush marinade on each side. Finish with a balsamic glaze and sprinkle crushed peanuts on top.
Bake for half an hour, until crispy. Finish with more nutritional yeast and fresh lemon juice if desired.