Survey finds many UK diners don't understand seafood dishes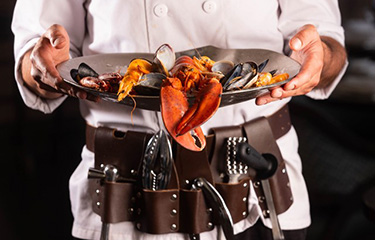 Almost half of British diners are confused about the terminology of seafood dishes, such as sashimi and gravadlax, according to a new survey.
Forty-one percent of the restaurant's customers said they did not understand what the Japanese dish "sashimi" is, according to booking platform TheFork. Additionally, 45% are confused by the term 'Gravadlax' (cured salmon with dill) and 49% don't know what 'Frito Misto' (an Italian fried fish dish) is.
Many are also confused about ceviche (46%), prawns (44%), marinière mussel (33%) and caviar (15%), the company said in a press release.
Sixty-one percent said ordering fish and seafood can be as confusing as ordering wine in a restaurant, and 62% said they would have liked to know more about seafood.
To that end, TheFork and participating restaurants – Burger & Lobster, Seasons Mayfair and Baccala – are offering the first "Shellmelier" steward program.
"For the first time ever, customers will be offered a completely unique and individual dining experience, allowing them to call on trained restaurant experts who specialize in all aspects of seafood and fish to help customers diners solve their fish dilemmas," said TheFork.
Just as a sommelier offers specialist knowledge and recommendations about wine, the Shellmelier service will provide dedicated fish experts brought in to share their knowledge with restaurant patrons – "from where to find the tastiest and most tender meat in a crab leg to the simple hacks they'll need to roll up their sleeves to perfectly shuck an oyster, every time," according to TheFork.
"As our research has revealed, we are a nation of fish lovers, but surprisingly we don't know much about it – from how to pronounce it to how to unlock maximum meat and flavor. ", said Patrick Hooykaas, managing director of TheFork.
Shellmelier service features seafood stewards "who are ready and waiting to show diners how to really maximize their fish dishes or do the dirty work in preparing fish so diners can sit back, relax and enjoy. of their meal without any pain of preparation". Hooykass added.
Meanwhile, TheFork found that Britons' lack of seafood knowledge extends beyond restaurants. Forty-seven per cent said the only fish they ever cooked came from a supermarket – breaded or breaded.
Additionally, 49% of respondents admitted they would have no idea what to do with a whole crab, 49% have never filleted a fish, and the same number have never scaled a fish. . Additionally, 35% have never tried grilling a whole fish in their oven at home.
"And despite living on an island," said TheFork, "nearly four in ten Britons (36%) have never shelled prawns, 43% have not cooked mussels and nearly half never never shucked oysters".
Photo courtesy of TheFork