Sammy's Steaks Celebrates 75th Anniversary at Clearfield County Fair | Opinion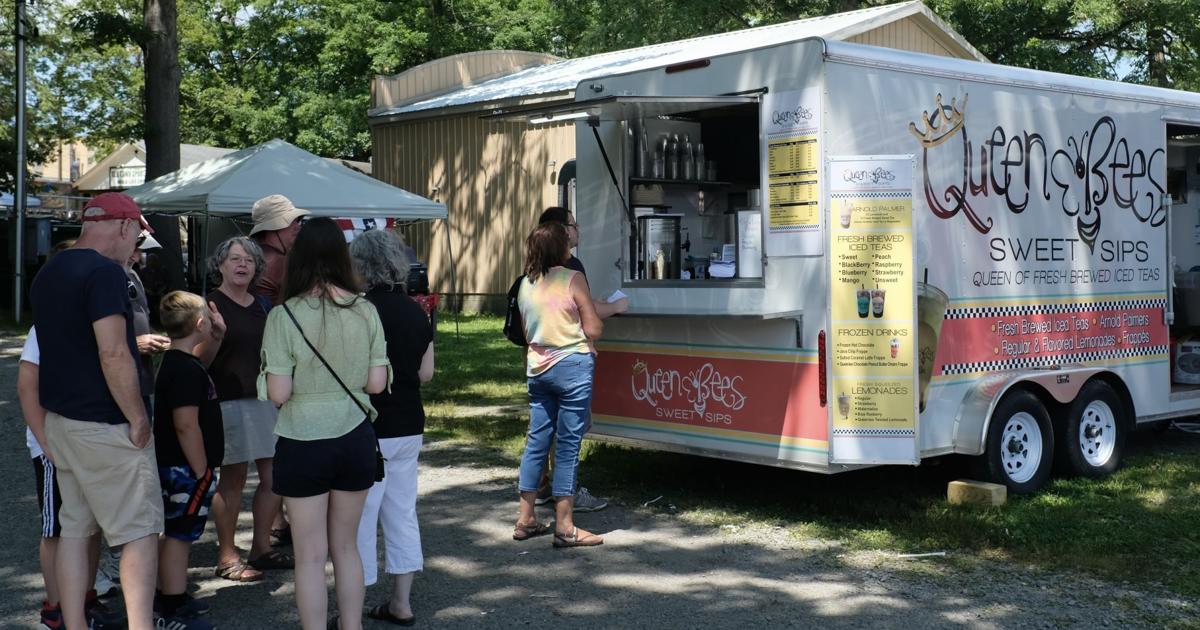 The Clearfield County Fair is back in town after a year off and Progress staff writer Jeff Corcino and I take a look at the food items from the various food stalls available at this year's fair. On Tuesday we tried Sammy's Steaks – a legacy stand celebrating its 75th anniversary at the fair.
Sammy's Steaks was started by three Italian-born brothers – Tony, Joe and Sam Albert. The brothers came to Clearfield from Reading and brought their famous steak sandwich recipe with them. When starting the booth, the brothers flipped a coin to see who it would be named after, and Sam was the winner. The stand was eventually sold to Mike Botch of Reading, who is still the current owner.
The booth has a deep-rooted history in the Clearfield County Fairgrounds and many workers have been there for years.
According to employee Joe Francemore, the stand can count on the same people to work year after year, no matter what. Francemore has worked at the stand since she was 11 years old. Former employee Tony Ferlazzo had stopped by the booth when we were there, and he said he had worked at the booth for 56 years.
Francemore credits the consistency of food and staff for the stalls' continued success, saying, "It's a consistent product with a great reputation. It's a tradition type thing. We see the same people coming back year after year.
Jeff said he's been eating a Sammy's Steak Sandwich at the fair since he was a kid and it's a fair tradition for him.
Jeff and I both ordered Sammy's traditional steak sandwich, which has steak, onions and their homemade marinara sauce.
Ferlazzo said he believes the marinara sauce, which is their own recipe, is a big reason Sammy's steaks are so popular.
We both topped our sandwiches with hot pepper relish. The sandwiches were fantastic all around with the homemade marinara tying it all together for a taste that is distinctly Sammy's.
Hot pepper relish contains a surprising amount of heat, so be careful. If spiciness isn't for you, Sammy's also offers sweet onions and peppers as well as pickles. At $8, Sammy's steaks are competitively priced with others around the fair.
To wash down Sammy's steaks, Jeff and I headed to Queen Bees, a booth in its first year at the fair.
Owned by Ashlie Byler, Queen Bees is a beverage stand that offers a wide range of teas, lemonades and frozen drinks. The stand is based in Punxsutawney and travels to local fairs and festivals in Clearfield County. The stand was very busy overall, but the iced teas were the most popular item, according to Byler.
Jeff tried the mango iced tea. He said it was a sweet tea and was "amazing" and would become a fair tradition drink for him. Tried the frozen hot chocolate and my review mirrors what Jeff said. I will definitely buy the frozen hot chocolate every year. Iced tea was $4 and frozen hot chocolate was $6. Both were 24oz, and we think they're reasonably priced compared to the rest of the fair.
Jeff Corcino is an editor at The Progress. Eli Clark is a senior journalism student at Clarion University doing a summer internship at The Progress.