Our Favorite Cold Seafood Dishes in the Des Moines Area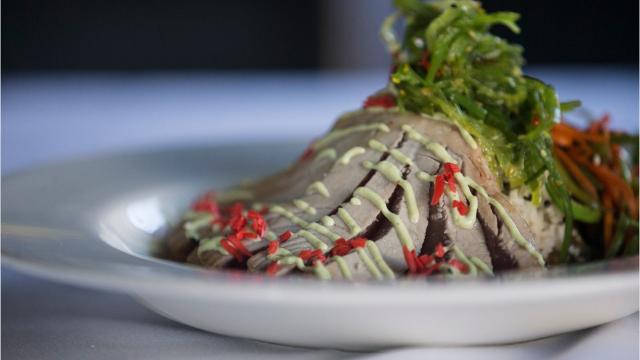 One way to beat the summer heat is to avoid it altogether. When we want big flavor but the thought of red meat and fried foods makes us sweat, cold seafood dishes are what we crave.
When seafood is served simply, it should be handled as it should. Sometimes, for example, in the case of a freshly shucked oyster in its miniature pool of brackish liquor, it needs no other embellishment than a spritz of lemon or a careful dot of mignonette. Fresh lime-dried prawns depend only on a careful eye at the time. Good sushi doesn't need 15 ingredients, tempura flakes or sugary sauces.
Whether dried in citrus juices, smoked, boiled or steamed then chilled, or simply raw, good, well-prepared cold seafood depends most on the seafood itself. We haven't exhausted everything Des Moines has to offer yet, but this summer, here are some of our favorite ways to enjoy cold seafood.
When you want something raw
Splash, Downtown, www.splash-seafood.com
Oysters ($3 each) at Splash are served with classic accessories: reseda, freshly grated horseradish, lemon wedges and cocktail sauce. Depending on the season you will find a different range – try them all. On trips there, Prince Edward Island oysters had a high saltiness with a complex sweetness. Those from British Columbia delivered a delicate ocean flavor. Splash also offers "dressed" oysters: Moscow comes with a dollop of crème fraîche with horseradish and speckled with caviar; the shooter arrives in a shot glass with vodka and spiced tomato juice. Although new, these preparations tend to overwhelm fresh oysters. Minimally trimmed oysters are preferred; a hint of seashell in your mouth and suddenly you taste the ocean right here in landlocked Iowa.
When you want your seafood dried in citrus juice
Ceviche Bar, East Village, www.cevichebardsm.com
Ceviche, $12: If you're going to name your restaurant after a particular dish, you better make it a good one. And Ceviche Bar does. Their ceviche starter is made with shrimp and chunks of salmon. The seafood is tangy with lime, balanced with red and green pepper and speckled with fresh cilantro, and was served on toasted Cuban bread. It was compulsively edible and enhanced with a complimentary splash of Lola's local hot sauce.
Honorable Mention: Shrimp Cocktail $13: Too often shrimp cocktail simply means boiled then glazed shrimp served with ketchup pretending to be cocktail sauce. Not so here. The prawns in the prawn cocktail ($13) were impeccably poached, nice and plump, with cilantro and chunks of ripe avocado, and served on a pool of tangy, tangy cocktail sauce based on a recipe from the owner's father.
When you want sushi
Miyabi 9, East Village, www.miyabi9official.com
Selection of sushi ($12.95): The chef's selection of Nigiri sushi (4 pieces, $12.95) is a beautiful plate of food, both for the eyes and the palate. Four different pieces of nigiri – a precisely balanced slice of protein on a small mound of lightly vinegared sushi rice – each with a different flavor profile. The tuna in Korean chili sauce and pine nuts was surprising. Pine nuts? On the sushi? It really works, especially when combined with the buttery ahi tuna and lightly spiced Korean chili sauce. The salmon nigiri had a hint of miso and was topped with toasted sesame seeds, while the yellowtail came with spicy miso and a slice of raw jalapeno on top. The prawn nigiri was so finely butterflyed that it wrapped around the rice underneath, anchored there by just a bit of wasabi. Every component of every piece of nigiri has been calculated to both enhance and complement the quality and freshness of the seafood, enhancing the flavor of the fish, but without overwhelming or obscuring it.
High Honorable Mention: Spicy Tuna Rice Cracker ($5.95 for 2): This is not a cracker in the traditional sense, but rather sticky sushi rice shaped like a small rectangle and fried, topped with a ribbon of avocado, balancing a generous pillow of spicy tuna and draped in shaved onions greens. The tuna is spicy and fresh, the avocado creamy, and the rice cracker is warm, chewy, and salty.
When you want sushi and you like a good gadget
Sushi a Go Go, Johnston, https://www.facebook.com/sushiagogo
Cupcake-Style Sushi ($6.50): Sometimes gadgets work. We've had sushi "burritos" several times (no more than oversized rolls, sometimes replaced with soy paper for nori), but this was our first cupcake, with mango, avocado, salmon smoked and cream cheese, and somehow it works. Even the cream cheese, often a sticking point for us in Americanized sushi rolls, was lightly applied and disappeared into the dish aside from some background flavor. Yes, it was sweet (thanks, mango), yes, the flavors blended together, but it seemed like the thing you want in a food truck around midnight when you're looking to recharge, not call it a night.
Honorable Mention: Tuna Poke Rice Bowl ($10): It's a pretty simple affair – shiny chunks of ruby ​​tuna on a small ball of sushi rice, with slivers of avocado and cucumber, freckled with sesame seeds and edamame. It comes with a little soy and the result is a bowl of food so clean that you end up feeling quite virtuous but also completely satisfied.
When you want tuna tartare
801 Chophouse, downtown, www.801chophouse.com
Ahi Tuna Tartare Tacos ($9): The full-fledged Ahi Tuna Tartare at 801 is a nice alternative to oysters and the various chilled shellfish platters available when you want a hint of Japanese flavor in your appetizer, but we like it even better on the happy hour menu. hour. The tuna is wrapped in tiny wonton wrappers fried in perfect mini (micro?) taco shells, resting on a bed of sweet teriyaki with just a little seaweed salad on top. Each taco is no more than two bites (or a slightly gluttonous one), but everything is perfectly balanced, the crunch, the zip of the wasabi cream, all playing off the back of the fresh tuna.
As well …
There were a few other cold seafood dishes, even a few of our favorite dishes in town that are seasonal or appeared on a rotating menu. To check them out, go online.
Competitors difficult to classify because they were a.) seasonal or b.) on a rotating menu or c.) were technically cooked but always served cold
Blackberry Smoked Salmon ($14) at Splash: Splash's specialties were where we found his most interesting and best dishes. The highlight being the blackberry smoked salmon ($14). The hot smoked salmon can be wielded like a sledgehammer, and indeed the flavors were big, but the big pile of oregano microgreens lent some of the brand's peppery and minty notes, but in this youthful form was sweet and fresh, like young lettuce. The braised garlic aioli gave just enough sweetness and spiciness.
Avocado and blue crab roll, or toast ($5 during happy hour, $10 at dinner) at Harbinger: One of our favorite recurring dishes at Harbinger was various riffs on blue crab, paired with avocado. The natural, musky, buttery richness of the avocado provides a canvas for the tangier, sweeter crab to shine. We had it first in roll form, the avocado delicately wrapped around the tender crab meat, it was a snack we were fighting over the last bite of. Later, we found it reinvented as a toast, aboard a slice of homemade brioche. It was gone when we last visited, but there's a wonderful Hamachi belly dish with cucumbers, lemon verbena and pickled fresno peppers that seems designed to beat this heat.
Tuna Tataki ($12) at Trostel's Greenbriar: Here, rare, precisely pan-fried ahi came crusted with hazelnut sesame seeds. The accompanying ginger sushi rice was just okay, but the tangy black bean vinaigrette at the bottom of the plate had a tinge of heat that emboldened the tuna tataki appetizer ($12).