New York's most famous butcher cooks steaks with this grill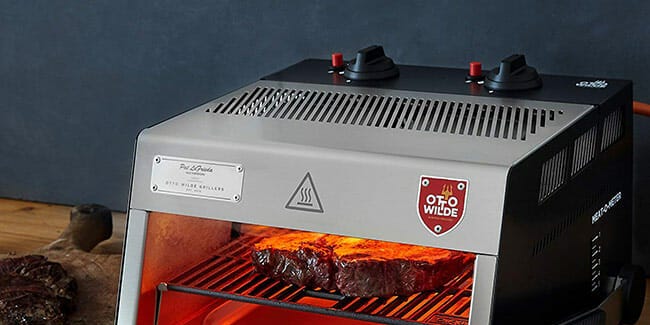 It's Chef's Staples, where professional chefs prepare the equipment they couldn't cook without. This week: Pat LaFrieda of LaFriedas in New York, NY.
The LaFriedas have been in the New York meat business since 1922. Today, Pat LaFrieda continues the legacy started by his grandfather, becoming one of the nation's best-known meat purveyors, specializing in steaks. dry-aged and burger mixes (Pat LaFrieda concocted Shake Shack's famous burger patty mix). With nationwide distribution, anyone in all 50 states can enjoy provisions from Pat LaFrieda Meat Purveyors, now based in New Jersey. These are the tools the country's most famous butcher uses to break down and cook his world famous beef.
The Otto Wilde grill
"The Otto Wilde grill is by far the best grill I have ever used. It heats from the top grill to amazing temperatures (1,500 degrees Fahrenheit) that you simply can't get with a normal grill or oven. It's what gives the steak that nice burn to trap those amazing juices. It can be used for anything – fish, poultry, fruits, vegetables – but of course my favorites are perfect T-bones, ribeyes and porterhouses.
BUY NOW: $699
Victorinox Swiss Army Fibrox Pro Curved Breaking Knife
"Knives are very important in butchery. Maybe the more important tool. I developed my own set of knives with Victorinox Swiss Army to give me that perfect slice, and also the balance, since I'm so tall. They look like small swords, so it's hard to get through airport security with them, but seriously, they're the only knives we use at Pat LaFrieda Meat Purveyors.
BUY NOW: $40+
GreenPan Levels Non-Stick Ceramic Frying Pans
"At home, I use an induction cooker because, firstly, it's safer for my children, but also because it heats the pan more evenly than any other type of burner. I like GreenPan because they coat it with Thermolon, a non-toxic ceramic coating to ensure it's nonstick, but without the toxic chemicals found in other nonstick pans. And they can be used on all types of stovetops – induction, gas, electric, etc.
BUY NOW: $60
Gaggenau cooker hood
"When you're a butcher, you cook a lot of meat. Good ventilation is key, so my wife and I installed a Gaggenau hood over the stove when we were building our kitchen. The hood captures all types of odors and fumes and is almost undetectable because it is so quiet.
LEARN MORE HERE
To note: Purchasing products through our links may earn us a portion of the sale, which supports the mission of our editorial team. Learn more here.
This content is created and maintained by a third party, and uploaded to this page to help users provide their email addresses. You may be able to find more information about this and similar content on piano.io