Drool-worthy seafood dishes are on the menu at Third Coast Provisions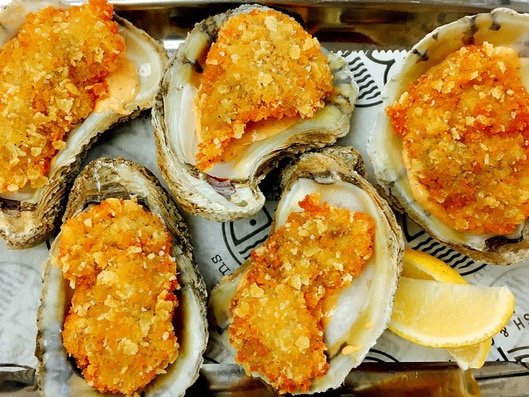 Tonight, we got a sneak peek at the menu for the upcoming Third Coast Provisions, a soon-to-open seafood restaurant at 724 N. Milwaukee St.
According to previously published information, the restaurant – which will be owned and operated by Cheerfulness social Chef Andrew Miller and partners Cameron Whyte and Samuel Emery promise an "unprecedented seafood experience for Milwaukee diners". And we have high hopes that the new venue will do just that.
Chefs heading up the new venue will include Miller as well as Sous Chef Mike Meinzer, whose experience includes working at Capital Grille, Milwaukee Chophouse and most recently Hom Woodfired Grill.
And while the dishes haven't been tasted yet, they look drool-worthy.
Starters
A raw bar will offer dishes such as a fresh seafood platter with oysters, ceviche, salmon pie and prawns ($48), as well as steak tartare ($14), a chef's selection of oysters ( $18) and a smoked salmon rillette ($11).
Oysters will also be available grilled, with sides like spinach, Pernod, Parmesan and bacon (Rockefeller, $22); roasted garlic butter (Straight, $21); and pastrami, garlic, shallots and beer (Milwaukee, $22).
Small plates will include dishes like Parker House rolls with honey sea salt butter ($7), breaded fried oysters in a Kettle Chip crust ($14), crabcakes ($18), shrimp and oatmeal with vadouvan, cashews and cilantro ($13) and lobster taquitos ($14).
"Lobster Potholes", perhaps distinguished by lobster and Dungeness crab that have been slowly poached in cultured butter with herbs, garlic and white wine and served with plenty of bread to soak up the delicious sauce ($15).
Clam "chowdah" with bacon and potato chips and Creole fish stew are among the soup offerings ($9), with salads to include warm lobster salad with pork belly, soft-boiled egg and a mustard vinaigrette ($15).
Starters
Among the main courses, you'll find a variety of fish dishes including salmon with cauliflower and hazelnuts served with basmati rice and salsa verde ($26); rainbow trout with hush puppies, apple butter, coleslaw and malt vinegar mayonnaise ($23); and whitefish with spinach, phyllo, oregano and spiced yogurt ($31). Whole grilled fish will also be on the menu, prepared with seasonal side dishes.
The beef tenderloin will be served with delicata squash, fregola sarda, alpine cheese and apple ($37) while the Third Coast version of the surf and turf will include braised ribs with fried shrimp spaetzels and chanterelle mushrooms ($32). A lobster pot pie will include seasonal vegetables, mushrooms and black truffles (market price), while a toast of smoked oysters and mushrooms will be topped with crème fraîche, sauerkraut, Gruyère cheese and paprika aioli ($19).
Sides like scalloped potatoes, delicata squash, charred green beans, "chowdah" fries and lobster macaroni and cheese will be available in share portions ($8-18).
Desserts
A dessert menu, executed by pastry chef Ariel Welch, will include options such as lime cream with graham cracker crumble, coconut macaron, mango jelly and toasted meringue ($7); chocolate trifle with milk chocolate pudding, dark chocolate brownie, whipped condensed milk and chocolate chip cookies ($8); and the pretzel bread pudding will feature Concord raisins, peanut powder and a peanut bourbon semifreddo ($8).
At the bar
Accompanying victuals will include a beer and cider list with an emphasis on Midwestern selections, as well as an extensive (and well-priced) wine list featuring domestic and international choices.
There will also be oyster shooters including a mix of vodka, bloody mary mix and lager, a version with jalapeno tequila, lime and spicy salt and a gin-based version with "mignonette" vermouth and black pepper (8- $10).
Cocktails include Gates of the Arctic with lemongrass-oregano gin, chartreuse and white pepper ($12), Homecoming with sherry, bourbon, amaro, pineapple and orange bitters ($10), and Dovetail with tequila, mezcal, grapefruit, cinnamon, lime and smoked salt.
Keep your eyes on OnMilwaukee for details on Third Coast arrangements as they become available. In the meantime, you can check out the space plans, which we covered earlier this summer.