Chef Kevin: burgers with gravy and garlic mashed potatoes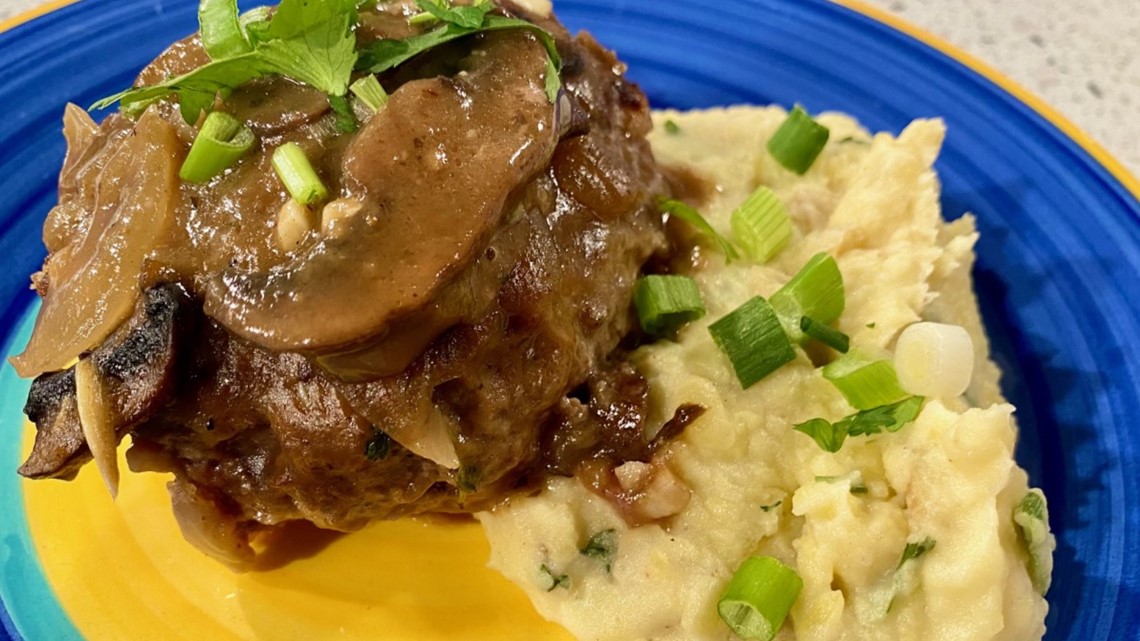 1 large egg
1/4 cup breadcrumbs
6 slices of bacon, cooked and chopped
1 C. kosher salt
3 tbsp. olive oil
1 1/2 lb ground beef
1 large onion, diced
1 tbsp. garlic powder
1 C. black pepper
1 cup all-purpose flour
1/2 cup vegetable oil
1/2 cup flour
1 large onion, chopped
2 cups of beef broth
1 tbsp. Creole seasoning
1/4 tsp. kosher salt
1/4 tsp. black pepper
1/2 tsp. Worcestershire sauce
2 cups fresh mushrooms, sliced
In a large bowl, combine all the ingredients for the galette except the flour and olive oil. Mix well.
Shape 4 to 6 hamburger patties of the same size.
In the flour you have reserved, dip each patty to coat both sides.
In a large deep skillet over medium heat, heat the olive oil and place each of the patties in the skillet.
Cook until browned on both sides, remove and set aside. Reserve the cooking juices for the sauce.
In the pan with the cooking juices, add the minced onion, cook over medium heat until lightly caramelized, stirring often.
In a separate skillet, heat the oil and add the baking flour until dark brown. Add beef broth, creole seasoning, salt, pepper and Worcestershire, stirring until well blended.
Pour this mixture into the pan with the onions and stir constantly until the mixture thickens.
Return the cooked burgers to the skillet, turning them to coat each side with the sauce. Make sure the sauce is well absorbed on both sides.
Add sliced ​​mushrooms and reduce heat to low.
Cook covered for about 20 minutes, making sure to flip the burgers to keep them coated in the sauce.
6 cups of chicken broth
5 lbs. Yukon Gold potatoes, unpeeled and cubed
7 garlic cloves, whole
½ cup of butter
4 oz. Cream cheese
½ cup heavy cream or milk
1 tbsp. Creole seasoning
1 C. kosher salt
Bring the chicken broth to a boil in a large saucepan over high heat.
Cut the potatoes into cubes or 1-inch pieces. Place the potato pieces and garlic cloves in the boiling chicken broth and boil until the potatoes are tender, about 15 minutes.
Strain potatoes from broth and place cooked potatoes and garlic in a large mixing bowl.
Add butter, cream cheese, heavy cream or milk, creole seasoning and salt. Use a potato masher to mash the potatoes and other ingredients until everything is melted, combined and completely mashed.