Chef JoJo Ruiz Creates Memorable Seafood Dishes at Hotel Del Coronado's Serea Restaurant | Coronado Home and Business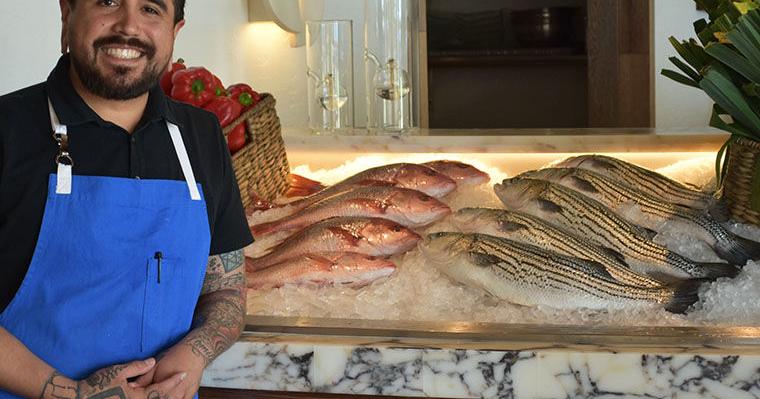 Friday, June 29, 2019 marked the long-awaited arrival of Restaurant Serea at Hotel Del Coronado, and with it the return of sorts of chef and partner JoJo Ruiz to Coronado. As he said during our interview inside the sleek, airy and spacious restaurant two days after the grand opening, "I grew up in the South Bay and had a dream that I never never thought I could achieve. As a teenager, 15 years ago, I used to come to parties and bonfires in Coronado, dreaming of working in a beautiful restaurant at Hotel Del Coronado. And now I am.
Ruiz was born in San Diego and is officially called Jose Joaquin, but his surname since he was a child has been "JoJo". Ruiz played football at Hilltop High School in Chula Vista for two years before a serious knee injury ended his playing career. As a child, summers were spent at a grandparent's beach house in Rosarito, Mexico. "We spent a lot of time there when we were kids," Ruiz said. "We explored ocean tidal pools a lot. So I'm no stranger to seafood."
Part of his introduction to seafood included wanting to eat lobster as a youngster. "I was so young, but I wanted to eat lobster. When I did, I thought it was disgusting. Now I love lobster.
Ruiz's first culinary influences came from his immediate family. "My grandmothers on both sides were great cooks. One was from Durango and she cooked Mexican food. My other grandmother, who had the beach house in Rosarito, was Tejano. They were the grandparents on my father's side, and they did a lot of open fire cooking, around a barbecue, which I like to do. Open fire and seafood is what I love when it comes to food.
Ruiz's first job was at Yokozuna's Sushi Bar and Islander Grill in Chula Vista, where he started working as a dishwasher when he was 16. After six months, he became a prep cook. When asked when he thought making a living as a chef was a possibility, Ruiz said, "It was during that first job, when I was still in high school. I circled around everyone in the kitchen. I picked it up quickly and figured out how food works. It was like second nature to me, how to use a sauté pan and a wok. I worked cleanly and I worked fast. It just happened."
Early mentors included chef George Cota of Yokozuna, where Ruiz continued to work while cooking through the Culinary Institute of San Diego. "He was my first boss and Chef Cota was a sushi chef who taught me how to carve fish and seafood. He was a very tall man, about 300 pounds with a ponytail, who made small plates and made me try the mackerel. He was also legally blind, but he made some nice big presentation pieces of sushi. He could cut the thinnest pieces of sashimi I've ever seen. He taught a lot of guys who are now very successful.
Like most chefs who manage to rise through the ranks, Ruiz has bounced back a bit while honing his craft. Another major culinary influence has been Chef Shane McIntyre, corporate chef at Brian Malarky's including Urban Wood, Searsucker and Herring Bone. "Chief McIntyre taught me a lot and he pushed me the hardest for sure," Ruiz said appreciatively.
Sometimes the best job opportunities come when you already have a paid job and that was the case with Chef Ruiz. "I was working at Ironside Fish and Oyster and was really happy with my job, when Clique Hospitality approached me about the Lionfish Restaurant at the Pendry Hotel. Serea at the Del wasn't even a thought at the time. Clique founder Andy Masi took me and my fiancée Ashley Bonilla to Las Vegas. We ate at a few of their restaurants to see what they were doing. After seeing their style and their passion for food, I made my decision. I sat down with Andy and he offered me the job. The timing was pretty awful, as I was moving from Ironside to Craft & Commerce. The position offered by Andy was everything I wanted, the money and being a partner. It was the right decision. Serea arrived during a dinner at the Lionfish for some representatives of the Blackstone Group (owners of the Del Coronado Hotel). Andy has great connections and we had an overdone dinner for them with spot prawns, rockfish and crabs and they loved it all. Right now I'm 100% at Serea and when the operation goes smoothly I'll go back and forth between the two, 50-50.
As for the development of the Serea menu, Ruiz explained, "We started the menu around April 2018 and we started gathering ideas. We had hundreds of menu revisions as Andy and I went back and forth with what he wanted and what I wanted. As for Serea's set, "Andy and the guys at Clique oversaw the work and Studio Munge (Toronto, Canada) did a fantastic job. It's light, open, and you can see the ocean from every seat in the house. The concept is less is more (a nod to famous architect Ludwig Mies van der Rohe) in the dining room, there are no tricks everywhere. There are allusions and accents. They put all the artwork up recently and the rooms totally changed from one day to the next.
Ultimately, Serea's success comes down to food. Ruiz described his cooking style and had a few dishes to recommend to diners. "I would say it's best to get the freshest seafood and prepare it in the easiest way. I don't try to do too much anymore. A few years ago I was got to the point where 15 ingredients in a dish was too much I use sea salt and sprinkle the fish with a mixture of lemon juice, red wine vinegar, olive oil and oregano We grill it over charcoal and spray it with this mixture every two minutes which gives us a nice caramelized skin and adds tons of flavor I love the chickpea and spinach salad with Grilled Spigarello broccolini, quinoa, za'atar, Beemster cheese and lemon tahini vinaigrette Then I would say the local halibut ceviche with cucumber, avocado, lemon, coconut, agave marinated serrano and spring onion Third would be Baja sea bass sashimi with San Diego seaweed tomato salsa fresca and seaweed chicharron s. Fourth, the grilled local prawns and probably the patatas bravas with the garlic aioli and chives on the side. And fifth, for dessert, it would be Loukamadas or light donuts with walnut honey sauce.
On opening night where Chef Ruiz estimated he served 350 customers at Serea, The Better Half and I were able to sample many of the dishes on the menu, including the Greek salad with tomato, peppers, cucumber, onion red, feta cheese and Mediterranean olives. ; Hawaiian Big Eye Tuna with Caper Relish, Shiso, Crispy Onions, Pickled Fennel and 20-Year Aged Balsamic Vinegar; Zucchini and aubergine crisps with cheese and tzaziki; the local halibut ceviche described above; Crispy Saganaki, a Greek cheese, with tomato, Peppeadew pepper, Baugna Cauda and lemon; Greek fries with Feta, lemon and Tzatziki; Mixture of Spanish Mushrooms with Garlic, Herbes de Provence, Sherry Vinegar, all topped with a Chicken Egg; and dessert was a large white chocolate clam shell sprayed with edible pearl, with cake on the bottom and mousse on top, and mango and passion fruit coulis.
The Friday night menu covered a lot of ground and was fun to enjoy as a group. For dinner, my favorite dish was the Hawaiian Big Eye Tuna, razor-sliced, beautifully plated and wonderfully prepared. Sharon's favorite dish was the halibut ceviche, which was also delicious. For dessert, it's a mix for me between the Loukamadas with walnut honey sauce and the white chocolate clam shell. I forced myself to stop at three Loukamadas and really enjoyed sampling the concoction of white chocolate desserts.
Ruiz said of his future plans for Serea, "I want to get the James Beard Foundation Smart Catch designation for Serea, like we did at Lionfish. I would say this is the highlight of my career, which I won in October 2018. I got to cook at the James Beard House in New York for Smart Catch. We use all sustainable seafood, and every piece of our seafood can be traced back to where it came from, if it was farmed, how it was grown and grown. it has been grown sustainably. We use all sustainable fish and fisheries. We try to get everything directly from the boats, cutting out the middleman. It's a completely different coolness than what people are used to. It's something I've wanted and pushed for the last five years of my career. I want to give people an understanding of what sustainable seafood is and it's great to be recognized for that.
Although seafood is the main focus at Serea (meaning "mermaid" in Portuguese), there are also chicken, lamb, and steak options, as well as a vegetarian dish Zucchini Pesto Cavatappi.
And there's more, "We're working on something for after the summer, which would be a very, very high-end tasting menu with 10-15 courses. Something crazy, an extraordinary tasting menu. We can call it Table 3, and we'll have one or two tables per night serving the tasting menu. And national recognition would be nice, with a Michelin star.
On a personal level, Ruiz plans to eventually start a charity with his fiancée Ashley. He said of the concept: "I cook for a living, so I want to start giving something back. We strive to teach the youngest, when they grow up away from home, how to cook. She and I want the younger ones to be able to make themselves a basic meal. »
Ruiz and Ashley Bonilla have a 10-month-old son and recently moved into a new home. In his spare time, Ruiz enjoys working on old cars and motorcycles. "I've always had Harleys and Chevys. When Ashley got pregnant, I had to sell the bike. When our son turns 18, I will buy another one. I'm looking for a 1953 or 1954 Chevy Belair convertible for my next project. So with chores, new things around the house, and spending time with my son, there's not a lot of free time.
Dinner reservations for Serea can be made by calling 619-435-6611 or online through the Serea website, which is www.sereasandiego.com. Serea is currently open from 4 p.m. to 10 p.m. on weekdays and from 11 a.m. to 10 p.m. on Saturdays. Ruiz added: "We could start opening for lunch on Sunday. Lunch yesterday (Saturday, after the Friday night grand opening) was one of the longest days of my life. It was difficult, but we made it.