7 seafood dishes to savor in Mumbai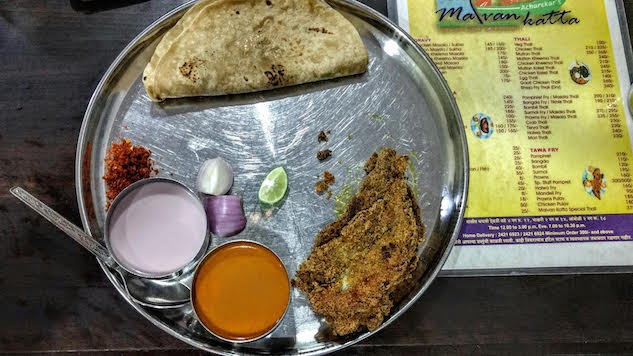 Think of this Mumbai Seafood Trail as a journey that will take you meandering along the west coast of India from Maharashtra to Goa and Karnataka (the Konkan Coast) with a postscript via the state of Kerala. Flavors from each state flow into each other, creating an edible tapestry that delves into ingredients readily available on the coast; a typical Konkani dish uses tart kokum fruit to cut through the richness of the coconut and tame the heat of the spices.
Most of the places on my list would qualify as "canteens," basic, unremarkable dining rooms with quick service and low-key but tasty food, with no fuss or thrift. The dishes do not lend themselves to delicacy: the most satisfying way to savor them is to dip with your hands. You were warned.


Let's start with the touristy Kala Ghoda. In and around its maze of alleyways you'll find a host of charming cafes and restaurants, but especially for the purposes of this trail, Trishna Seafood Restaurant. Trishna is a bit upscale and one of the few places with a liquor license. A permanent placement in any Mumbai guidebook, it finds its place on this list by virtue of its buttery garlic crab. Crab is a practical dish. Open the crustacean, remove its soft flesh and slide it into the ditch of melted garlic butter in which it is located.


Then move on to Mahesh Lunch Home, for its excellent fish gassi, a fine coconut-based curry from the city of Mangalore (in the state of Karnataka). Ask for the freshest fish, the creamy pomfret which is a Mumbai favourite, rawas, surmay or the underrated Bangda. Avoid basa though; it is a fish that tastes nothing.


Time and time again I find myself drawn to the excellent Mangalorean cuisine at Ankur. Born in 1941 as a vegetarian restaurant, it cleverly put seafood on its menu in 1994 and it is now one of the best in Mumbai. A multitude of dishes will compete for your allegiance here, but the one I order most often is the clam sukka, a mixture of dry fried clams with coconut and spices. Mangalorean cuisine is assertive, not hot, but still consider ordering the cloud-soft neer dosas (rice cakes) to eat as an accompaniment.


My absolute favorite seafood place, Acharekar's Malvan Kutta, serves Malvani food from the southern tip of Maharashtra. The best way to eat here is to order a thali, a menu organized around the seafood of your choice. And the best thali eating here is the bomb or Bombay duck thali. the bomb (a lizardfish, native to the waters of Mumbai) comes sheathed in a crisp shell of semolina, accompanied by a fiery coconut sauce to be eaten with a pile of rotis or rice.
Ladle next to the sauce is a bowl of rose kadi soil, made with coconut milk, salt and garlic; the creamy coconut stained with the purple color of dried and salted kokum skins. Drink this to put out the fire of the sauce.


A stone's throw away is the Hotel Sachin, another Malvani restaurant. Order the shrimp, splattered in a skillet or fried in cornmeal; and don't leave without trying mandeli, small fish served in the dives through the city. At Sachin, each fish fritter is fried until crispy and must be sautéed whole in the mouth.


Photo by Meher Mirza


A similar, but slightly different cuisine is the Gomantak food prepared by the Hindu community in Goa. At Highway Gomantak, in the suburb of Bandra, you'll find somewhat less common restaurant dishes, such as barramundi and mackerel cooked with triphal (kind of Sichuan pepper). Or you can always fall back on the crunchy prawns with semolina and the teesrya masala, a flock of plump clams overflowing with a reddish pool of coconut sauce.


Finally in the postscript: the restaurants of Kerala. Kerala cuisine exuberantly embraces all sorts of vegetables, fruits, seafood and meats: its beef fry enriched with coconut flakes is extraordinarily lush; the roast duck is tender, and if you ask nicely, you might even get rabbit. But it's all about seafood, so I highly recommend checking out Hotel Deluxe or Taste of Kerala, both of which sit side by side in a narrow alley in the Fort area. Once you get over their friendliness, request the Karimeen or Pearl Spot, Kerala's favorite fish. Karimeen is riddled with bones, but the flesh is soft and tender – he arrives at the table wrapped in an overcoat of spices. Also order the fried masala with prawns, smooth with spices and oil and perfect to eat with Kerala paratha, a flaky, multi-layered and multi-splendored flatbread.
All this to say that Mumbai is full of excellent seafood restaurants, most of which I have omitted. Gajalee has excellent tandoori crab; Sindhudurg for its fish eggs; Fresh Catch is the favorite of star cricketer, Sachin Tendulkar; Sushegad is loved for its crispy Bombay duck curls; the swish Konkan Cafe of the luxurious Vivanta by Taj hotel for its always good seafood thalis from all over the west coast; and there's even Bastian, for when you just want your lobster rolls and poke. The "best" is only a matter of opinion; all you can do is keep eating. Remember to wear loose pants and plan for a long nap afterwards.