12 Highly Recommended Seafood Dishes To Order This Holy Week And Beyond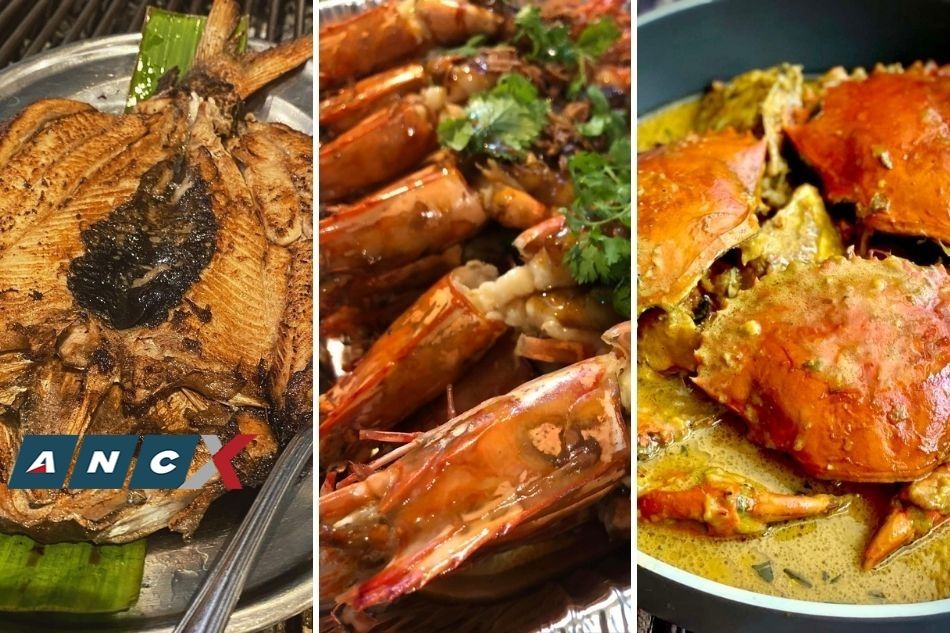 Food drink
A dozen proven suggestions – from crabs to baked shrimp to "panga" – for the next five days
CYRENE DE LA ROSA | March 29, 2021
Stepping away from beef and pork and eating mostly seafood during Holy Week is a long-standing Lenten "panata" for most practicing Catholics. But while a Lenten bond may seem like something one has to endure, nothing in the seafood dishes below means missing out on a perfectly delicious meal. Here are a dozen of amazingly satisfying seafood dishes that we've enjoyed that you can order during Holy Week and beyond.
1. Crab Gulong Gulong by Lechon Diva
According to the Lechon Diva, Dedet Dela Fuente – who is famous among foodies in Manila for his delicious lechons stuffed with truffle rice, among others – "Crabs are the lechons of the sea because both take on a delicious shade of dark orange. when cooked. " Whether you agree or not, one thing is for sure: his Filipino mud crab dish cooked in his secret "gulong gulong" sauce is as good as his signature stuffed lechons. Available in small and large party platters that you can also order "shelled". Contact Pepita's Kitchen at 0917-8660662 to order.
2. Chinamommy's curry crabs
Thanks to my obsession with lo ba (Taiwanese-style braised ground pork dish), I recently rediscovered the delicious food of Chinamommy, one of the most consistent home cooks in town, and his curry-style crabs. Thai popular with the crowd, which in my honest opinion is still the best curried crab in town. Contact 0917-5148540 or @chinamommyph on IG to order.
3. Kani Aburi by Taste and Tell
Taste and Tell's Kani bake is like a burnt Californian maki deconstructed into sushi. This is the sushi pastry to try if, after a year of trying it out, you still haven't had any luck. Contact 0909-9827426 to order.
4. Fresh oysters at Golden Seafoods
Those looking for a fresh oyster solution without breaking the bank probably won't find a better deal than Golden Seafood's P30 per oyster offering! If you don't eat raw seafood right now, you can try their Salt and Pepper Shrimp Platter instead. Contact Leslie at 0919-0097191 to order.
5. Marvsboqueria x Sarsa Bangus Inasal
This imho is just one of the best food collaborations in the event of a pandemic. Where Chef JP Anglo de Sarsa partners with premium seafood supplier Marvsboqueria to offer a range of ready-to-cook gourmet bangus that you can buy cooked or frozen at Sarsa. Contact Sarsa at 0917-5280115 (Viber) or Marvboqueria at 0917-8512732 to order.
6. Garlic and Soy Crabs at Ley's Kitchen
Manila has many good crab specialists. Ley's Cuisine is your best bet if you fancy a very tasty but well balanced Chinese Garlic Crab. Contact Angel Ley at 0917-8486889 to order.
7. Hokkaido scallop crudo
Gastronomade's award-winning chef, Aaron Isip, has created an incredible selection of ready-to-eat and ready-to-cook gourmet kits that showcase his equally impressive range of bespoke sauces. Consider this Hokkaido Crudo No-Bake Scallop appetizer, with Amaebi, Ikura, Korean Radish that you can finish with Tamarind-Anchovy & Rocket Sauce from Gastronomade. Contact @gastronomademnl at 0926-7566539 to order.
8. Liden's salmon gravlax
Other gravlax lovers should try this homemade Japanese salmon gravlax at least once to find out why it's one of the most popular dishes for sale at What's Cooking Makati FB. Gravlax is a Nordic salmon dish with dill and mustard sauce. One order consists of 400g of finely sliced ​​gravlax with 200g of dill mustard sauce. Contact 0917-5625467 to order.
9. Baked Shrimp by Chicken Man Manila
You might just call Chicken Man Manila Stevie Villacin "the shrimp man" after tasting his baked shrimp served with his own special tamarind sauce and topped with fried shallots and fresh cilantro. Contact 8896-8940 or 0906-5084155 to order.
10. Pls Naeng Ma Naw by Azuthai
If you are looking for a refreshing, light but tasty fish dish. Look no further. Lime Azuthai Sea Bass is a wonderful Thai steamed fish dish. A Thai dish that truly represents the delicious contrasting flavors of Thai cuisine. Contact 0966-6345792 or 8817-6252 to order.
11 Grilled Tuna Panga by Joseph & Jaemark's
After a brief hiatus, the family that launched Joseph & Jaemark's Filipino Grill at Cuneta Astrodome in the early '90s are back with a smaller setup and a delivery menu only topped with their famous panga (jawbone). and grilled tuna belly, with their signature sauces. Order one day in advance via Facebook or IG @josephandjaemarks.
12) Mussels with Chorizo ​​Cream
At Chef Tina Legarda's Bamba Bistro, mussels in chorizo ​​cream can be enjoyed as is with a side dish of lavash bread, as an appetizer or as a divine pasta sauce that it usually accompanies with linguine. A dish that you certainly won't want to share, but since it's Holy Week, we suggest you do. Not in the molds? Its Uni pasta is another must. Call 8519-7097 to order.